It's hard for people like me, who were born a couple decades too late, to actually get to see a band that was around when punk music was at its prime.

Some of these punk bands that are still around now consist of just one original member and put on horrible shows and makes me wonder why they still use the original band name.

Then there are bands that may have had a few line up changes, but allow fans to go back in time and enjoy a taste of punk rock bliss.

The Damned did just that when they played at the Stone Pony yesterday.
The bands that opened up for them were Electric Frankenstein and The BellRays.
Though EF seemed to pump up some people in the crowd, others just stood around. They're one of those bands that feel the need to turn up their scratchy guitars up way too much, when really; they could use a cleaner crisp sound and some more melodies.

There wasn't even a need for the singer to have a guitar honestly.

It's not that they're a horrible band, they just sound like a lot of other generic bands that I've seen.

The Bellrays on the other hand, really blew me away.

If the MC5 had a woman with a huge afro singing, that's what the Bellrays sound is.

Wayne Kramer himself has shared the stage with them in the past.

They got the crowd energized with singer, Lisa Kekaula's shrieks and soulful voice.

They were really tight!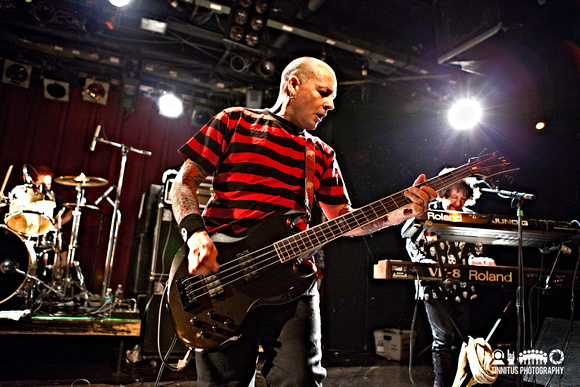 The place wasn't that packed, but once Pinch came out to his drums, more people edged their way up to the front.

Captain Sensible (guitar) with his red beret, Monty Oxymoron (keyboards) wearing a skull patterned shirt, Stu West (bassist) wearing his striped shirt, and Dave Vanian (vocals) in a suit, white button down shirt, and a black cravat.

"Ladies and Gentlemen, How do!"
The Damned put on such a great show. From fixing the light fixtures themselves, to the traditional stage banter, to Captain and Monty drum soloing, to Dave dancing with one of EF's daughters during, "Little Miss Disaster;" it was a very memorable night.
Their set list ranged from early Damned songs like "Love Song," to their infamous cover of "Alone Again or" (they sang the trumpet solo), to songs like "Dr. Woofenstein," from their newest album,
So, Who's Paranoid?
It's nice to see a band that doesn't just play their new album with one or two old songs. Though I wouldn't mind a few more off the new album, it's pretty good!
The Damned definitely made sure they hit different songs from the different decades they've been around for.

Captain Sensible talked about being able to jump from decade to decade with songs and joked about how bands like Green Day couldn't do that.
My only complaint was that I couldn't hear Monty that well, but it could've been because I was on the opposite side right up front by where Captain was.



My face hurts today because I was smiling all night long. I hadn't seen them since 2002. I love seeing this band live, it gets better and better. I hope they come back soon!
Love Song
Second Time Around
Anti-Pope
New Rose
Alone Again or
Under the Wheels
There will come a day
Disco Man
Dr. Woofenstein
Eloise
Perfect Sunday
Neat Neat Neat
Dark Asteroid


Encore
Curtain Call
Noise Noise Noise
Little Miss Disaster
Melody Lee
Smash it Up